MILENA NGUYEN & RAPHAEL AUGUSTO FRAGA
The happy ending of a long-distance love fairytale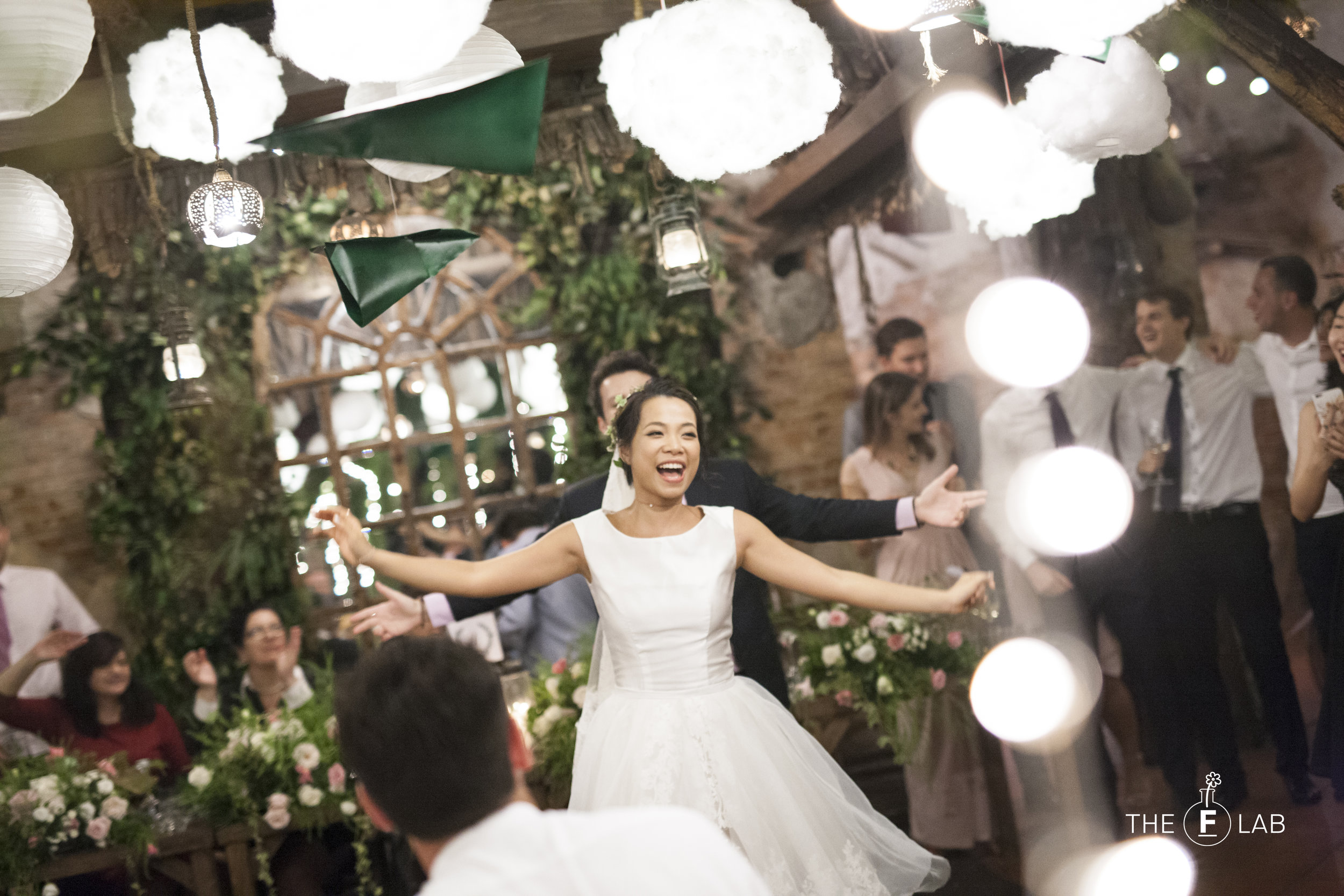 Milena, a lovely Vietnamese girl and Raphael, a Brazilian guy, first met in Russia during an Aiesec International conference. 3 years, 2 continents and countless flights, trains, cars and Skype calls, they've learnt how to fall in love over and over again.
After listening to their love story and their wishes to have an intimate rustic wedding where their international-profile friends and family members would feel like home, we recommended The Forest, a rustic local restaurant which is perfect for the theme of the wedding
The combination of light installation and fresh flowers helps us calm the hardness rustic feeling of the venue while keeping its originality. Light-installed clouds and paper airplanes are to indicate parts of the couple's inspiring long-distance relationship.
Soon after the venue was decided, our team started to design the space and programme agenda.
Because of their one of a kind love story, Milena and Raphael had guests coming from all over the world, from Brazil to the Netherlands, from India to Singapore, Hong Kong to Vietnam. Not only that, their story had touched hundred thousands of long-distance lovers who had or still having to deal with the challenges of distance, heart breaks but never give up on love. Therefore, their wedding is not only the happy ending of the bride and the groom, it gives hope and send the most powerful message to all. That is, "love can conquer all".
Above all, what we treasure most about this celebration is every of its moments. During this 4-hour-long wedding, we're extremely honoured to witness all kind of love, from the couple's love to family and friends' love and all laugh and tears in between. Once again we would love to send our greatest gratitude toward Milena and Rapha for letting us be a part of your special day, to trust us no matter what and we wish nothing more but love and laughter for you both. May your journey as husband and wife be beautiful above all imagination.